Saturday, June 11th, 2005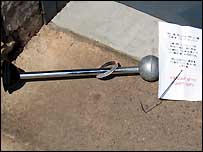 Like I have mentioned before, I am a big fan of Dr. Who. While I was wandering the news sites, I found this article about a stolen dalek! Find it really funny the quote:
A spokesman said: "There may be a black market out there for Daleks – but it's still a strange thing to steal."
Now someone has sent back the plunger with a ransom note. They want to talk to the Doctor. Here's the article about the ransom note. The other funny thing is that a previous actor who played the doctor has been in contact and might be sending a note back to the dalek kidnappers.